Isn't it a trip?
I have news on the new camper-trailer and a report on the Big Honkin' Trike Rally but that comes later.
Because I am thinking I need to score some weed. Not much, just a leaf to stick in my smoothie each day.
You see, I goofed up and it turned out to be fortuitous. I went to the dentist for Xrays. I grabbed the
Discover Magazine
and sat and read. I was grateful for the relaxing time and the learning. The article about the medicinal studies being done with weed was in the March/April 2020.
I think they must have called me to change the time when I wasn't by my paper calendar. Yes, I am one of those old folks that still uses a paper calendar instead of my Google or my Outlook Calendar. It is silly, I got caught with a few mistakes on the electronic calendar and so I just don't trust myself with it.
The magazine had pages falling out of it, so I tucked it into my backpack before I stepped up to the counter to re-schedule. Now it is sitting next to me and I can re-read it and share the information.
They are discovering that mice that are 18 months old, which is equivalent to a 70 year old human, and are showing signs of cognitive decline (They can't find the cheese in the maze anymore.) are regaining the ability to find the cheese when given a low dose of marijuana. And that young mice don't lose their ability to find the cheese as they age when they are given a daily dose. Not enough to make they "high".
I already knew that Marijuana is good for agitation and aggressive behaviors in dementia patients.
Many studies done on mice do not translate over to humans. But THC (the chemical in Marijuana) is a chemical that affects both mice and humans in the same ways.
The frustrating part is that because Marijuana is still a controlled/banned substance by federal law, studying it and finding product to study is not easy in the USA.
Also, because Marijuana is readily easy to grow by homes, the drug manufacturers can't make money off it, so they not only don't want to pursue such studies, they want to squash or warp any results.
The article not only talks about dementia but lists the diseases where cannabinoids, such as CBD and THC seem medically helpful.
AIDS (Increases appetite)
Anxiety and Panic Disorders
Cancer (Stimulates appetite, reduced chemo-related vomiting, manages pain)
Digestion Issues such as IBS
Epilepsy
Heart Function (Relaxes arteries)
Immune System Complications
Inflammation
MS
Pain
Parkinson's Disease
Schizophrenia
Sleep Disorders
And it doesn't hurt a thing to take a low dose.
Feeling Too Busy
Some days and weeks you feel like you have so much to do and so many responsibilities that you are in a panic to get it all done and not drop any balls, right? At least that has been me in the past couple weeks.
And all the while I am enjoying the activity I am doing, I know I am missing being with others that are doing something else.
I say no to activities I want to do because I have other activities on my schedule already and it frustrates me and adds to the stress of being too busy.
And then suddenly a day opens up, or two, and things are finished and I am standing in a wide-open space of time. How comfortable are you with that feeling? The wide-open time feeling?
I cleaned out some spaces, and organized others, and got caught up on a few things that had been needing attention. It felt great! AND it also meant that I had gotten the time by saying "NO" to other activities.
When you have some free time, do you quickly look around for stuff to do to fill in that time?
Yesterday I had gotten an automatic email response from Melissa that runs retreats for dementia caregivers. The retreat is a combination spa and learning weekend . It is free for the caregivers. I had emailed her to get an address to send another stack of books to gift as prizes to the attendees.
Her auto-response went something like this:
I am chilling and part of that effort is to reduce my screen time.
It works, try it.
She was a lot more eloquent about it than my synopsis, but you get the jest. Reduce your screen time and enjoy yourself more.
And since I was feeling stressed I put my computer to sleep and walked away.
Just like that!
Later in the day I went back to check email and check into Twitter, but I tried not to stay long. Instead I cleaned house, made phone calls, and went to the gym. I fed Ted (not his real name, the man in our neighborhood with dementia whom I help check on and feed). I walked to the pub with friends later in the day and that was fun and just enough.
In the evening I cracked open a paper novel instead of reading an e-book.
Our bike group was riding yesterday and today. Interesting rides with fun people. I didn't go on either ride. I felt a little discomfort with missing out, especially because there are some friends from out of town that will be leaving soon. But I also knew I was doing what was right for me and my physical and mental health.
Take care of thy self!
George was my activity pacer. Before he had dementia he would tell me when I needed to slow down. Sometimes when I was in a panic trying to juggle too many balls at once, he would have me list my activities and help me prioritize them. Often there was something that I could just drop, or put-off until later.
Now without George's physical presence I find myself stopping and trying to channel him in a sense. I think about his calming and logical way of going through my list and feel the effect of his mojo. He is with me still.
The Interview
All Author interviewed me and has placed the interview up on their website. I liked their questions, but I think I got a little long-winded in my answers. What do you think?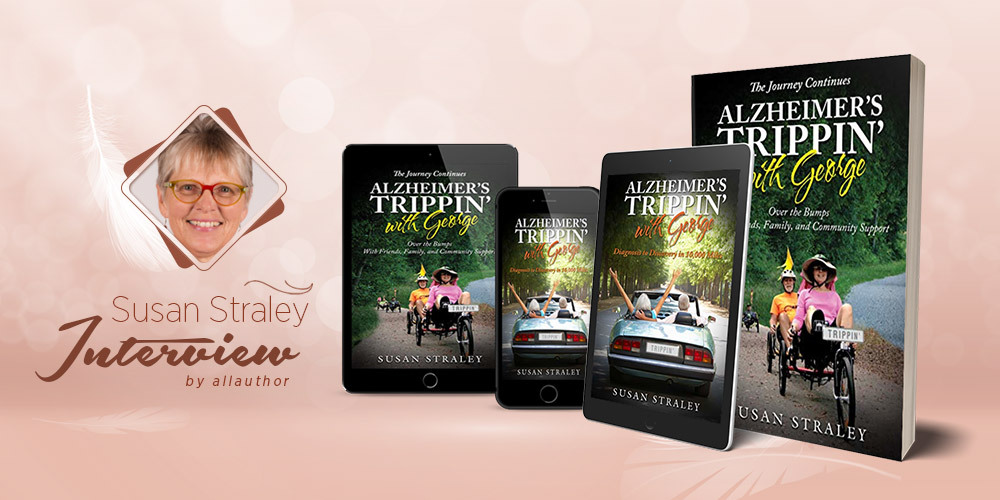 Susan Straley was born with an urge to wander. At three years old, after a frantic search, her parents and neighbors found her three blocks from home happily playing in a mud puddle. So it seemed natural to Susan, when her husband received the dementia diagnosis, to want to run away. Susan does an amazing job of sharing one couple's journey/adventure across the country while struggling with a new reality in the book, Alzheimer's Trippin' with George. She aims to enlighten while entertaining through her writing.
Read full interview...
Weeroll Camper
Debra said she saw a video of the Weeroll factory and my camper had the windows in it. So I texted the factory owner and asked if it was ready to "roll". He said that the windows were in and he would check to see what else needs be done.
That is the last I heard. So on Saturday (2/22/20) I texted him and said I was coming to pick up the trailer on Friday, February 28th. "Is that ok?" I asked.
I have not heard back.
I did hear from the person in charge of our neighborhood storage corral that there is space for my camper. I am going to go look at the space. Then I will have to figure out how to back my trailer into a tiny space without crashing into anyone else's trailer.
I may need to park it someplace else while I practice getting good at backing up.
Wednesday I get the hitch put on my car. Yes a 7-point plug and hopefully they also install the brake controller thingy.
Someone told me about these balls with magnets that can help you line up the hitches.
And I got a 30 to 15 amp adapter. I guess when I get to the campground it will make sense.
I got some plastic Lego-like things for leveling under a wheel, and I found two peices of plywood in the garage left from the previous owner. I am told not to leave it parked with the wheels on the dirt. I have to back them over something to protect them when parking longer than a couple nights.
Big Honkin' Trike Rally
It was a huge success. Thanks to the Bradfords, the Hansons and the Thompsons for organizing a great week.
Denny bought both books right away and read them both during the Rally. He is a fast reader for sure, since we also spent a lot of time on our trikes and yakking. Thanks Denny!
The first dinner had about 60 people but the weather was great and we were able to lounge around outside.
On Wednesday I led a ride to see the Ferris family zebra. The ride was very leisurely and was a big hit.
100 YEARS - Vote
This year is the 100th anniversary of the women's right to vote. Be sure to practice this right that so many worked so hard to attain. I always say that Bicycles Change Lives. And for women's sufferage the bicycle was a tool and part of the movement for women's rights.
Book Cover of the Month
The Journey Continues cover received over 300 votes for cover of the month. Thanks to all who voted. I did not make it to the top 24, ending up being the 44th among hundreds of covers. Thank you all for voting and sharing.
The picture above is a mock up, this bus depot sign doesn't really exist somewhere. But I love the mock up.
Through this contest many more people got to see the word "Alzheimer's" and the two people having fun on a tandem trike. Because of this contest and your generosity with your social media shares and your votes we are reminding people that life doesn't end with the diagnosis.
There is still much joy to be experienced.