This journal began as a way to keep friends and family informed about our location and progress on our three-month trip around the USA in 2016. As the trip progressed I began revealing more of what we were dealing with as parts of George's brain disappeared. I debated in the journal about how open to be about the symptoms and what we were feeling. Followers, friends, family, and even those who we met along the way encouraged me to tell all.
"It will be so helpful to others who have loved ones with dementia," they said.
When we arrived home from our trip I was encouraged to continue writing about our experiences. So I did, and the second half of our journey turned into a love story. Yes, love between George and I, but also the wonderful outpouring of love and support of friends, family, and community around us.
Our story is now two books. Both are available as enjoyable audio books, as ebooks with colored pictures or in paperback.
Be sure to click the join button above to be notified of the progress of the next book in the Trippin' series!
In the meantime I will continue to post about life happenings and travel and insights.
I hope you enjoy the journey.
If you are still curious about me, below is an interview that was featured on AllAuthor.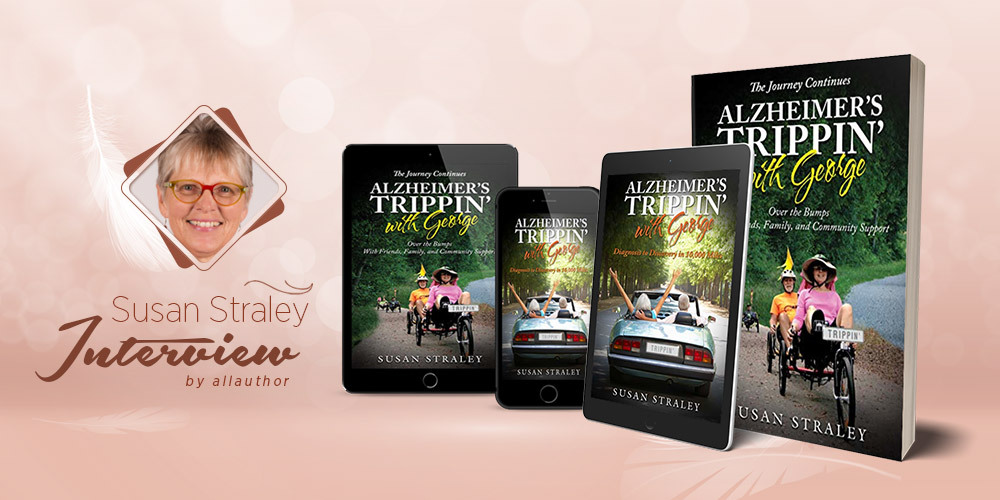 Susan Straley was born with an urge to wander. At three years old, after a frantic search, her parents and neighbors found her three blocks from home happily playing in a mud puddle. So it seemed natural to Susan, when her husband received the dementia diagnosis, to want to run away. Susan does an amazing job of sharing one couple's journey/adventure across the country while struggling with a new reality in the book, Alzheimer's Trippin' with George. She aims to enlighten while entertaining through her writing.
Read full interview...